Ruth Ann Lee
WWF Conservation Educator of the Year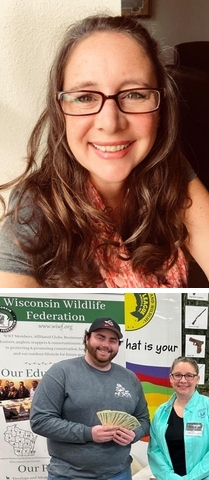 Sometimes it is more difficult to recognize the skills, talents, and values of those with whom we are most familiar. Take for example, educator Ruth Ann Lee. We know her as someone who grew up in the Wisconsin Wildlife Federation family, the daughter of a Past President and eventually the Business Manager for the Federation. But as she grew up, graduated from UW-Stevens Point and began working for the DNR and others, Ruth Ann developed skills and a reputation as one of the best outdoor educators in the Midwest. She continues to expand her network, her educational activities, and her impact.
Her work now for the Outdoor Heritage Education Center and Access Ability Wisconsin demonstrates her continued dedication to education that helps others. Each May, thanks to Ruth Ann, 3,000+ students, teachers and chaperones will learn about conservation and outdoor skills at the Midwest Outdoor Heritage Education Expo.  
Throughout the year, more than 50,000 people will experience a Touch of the Wild all across Wisconsin through the fleet of education trailers that she coordinates.
We already know of her work with Green Schools Network, and its successor Field Edventures, and how she trained educators through Projects W.E.T. and W.I.L.D.
Her achievements with a team of educators committed to helping other teachers has increased the number of students learning about conservation and the environment. She has helped educators get more students outside while using the environment as a context for learning. While most of us simply see her doing what she loves and inspiring more youth to get outdoors, the professionals in academia would say that she helps to develop environmental literacy in children and adults while increasing academic achievement. 
Most of her time training and leading workshops for the professional development of educators has been behind the scenes, days and nights, weekdays, and weekends. 
It seems like only yesterday that Ruth Ann was Director and Educator at MacKenzie Environmental Education Center where she helped tens of thousands of students learn about the outdoors. Her successful administration, supervision, and management of all aspects of the education program for the MacKenzie Environmental Education Center resulted in increased revenue and property use. Directly responsible for the oversight of the management contract between the WWF and WI Department of Natural Resources, she demonstrated that she is not only a great educator but also a great ambassador for outdoor education. We saw her promote education through her networking with WDNR staff at all levels, state and local political leaders, federal government stakeholders, management personnel in other state agencies and administrators and officials from school systems throughout the Wisconsin. 
Ruth Ann's volunteer time is also consumed with supporting education. She serves on the School Board in Poynette. She also helped build the education activities of the Friends of the MacKenzie Center. It's clear to see that she is an over-achiever worthy of recognition as WWF's Educator of the Year Conservation Achievement Award.