WWF Conservation Art Print of the Year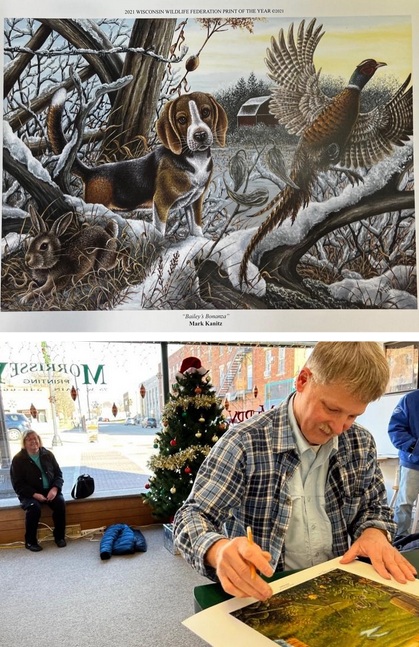 Artist Mark Kanitz is a familiar name for Wisconsin Wildlife Federation members and friends. His wildlife art has helped raise awareness and funds for the Federation's mission. With the recent selection of "Bailey's Bonanza" beagle print, the Markesan, Wisconsin artist achieved the rare distinction of having his work chosen eight times, including the most recent two years in a row, as the Conservation Art Print of the Year by the Wisconsin Wildlife Federation. Mark Kanitz has delivered again to help the cause with back-to-back honors as "Grassland Renewal" and "Bailey's Bonanza" were selected WWF Conservation Art Prints of the Year for 2020 and 2021. Morrissey Printing of Platteville provided high-quality limited-edition reproduction of the hand-delivered original under the watchful eye of the artist.
If you are looking for wildlife art to help your fundraising efforts for the Federation or its affiliated organizations, you need not look outside of Wisconsin. There are plenty of successful artists in the Badger State who have a rich tradition of capturing scenes that remind us of places we have been and wildlife we have encountered. Mark Kanitz is one of them who has won stamp competitions and helped raised a lot of money for the things we cherish, like conservation and our outdoor heritage. If you would like to purchase a print for yourself, or a gift, or are interested in using his art to raise funds for conservation or outdoor education contact Lindsay@wiwf.org.