Howard Christianson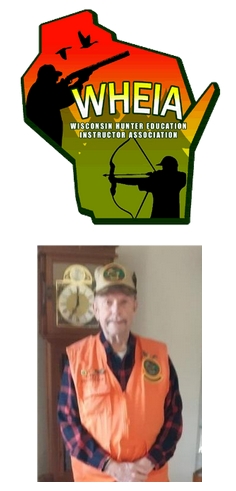 WWF Hunter Safety Instructor of the Year
Howie Christianson at age 85 is still going strong. He has been an instructor since 1985. In his 36 years of teaching new, safe hunters, he has certified 2,937 students. 
During the pandemic, Howie stepped up and instructed at four classes during 2021, including three Internet Field Days, certifying 138 students, and in 2020 he instructed at four classes. Despite COVID restrictions on start dates and class size of 25, he was able to certify 93 students. Howie has already signed up to teach hunter education and safety for 2022. 
Howie is a dedicated hunter safety instructor who makes sure that students understand the proper methods for handling firearms and that following the rules of firearm safety are their number one priority. His outstanding work for hunter education is above what is normally expected. Howie is more than qualified to teach all education subjects, yet he excels at the live-fire range where he is excellent, making sure all the students, youth, and adults, understand the seriousness of handling and using a firearm. He works effectively with youth and all age groups to ensure that they know how to handle a firearm properly and safely and that they go away with a positive learning experience. 
In addition, over the years, Howie, with his own funds, purchased rewards which he presented to students at the end of class period.
Howie is an educator. He puts everyone at ease while ensuring that all the students understand the seriousness of why and how to safely handle a firearm. He always stresses the four rules (TAB-K) of firearm safety: Treat every firearm as if it is loaded; Always point the muzzle in a safe direction; Be certain of your target, what's in front of and beyond it; Keep your fingers outside the trigger guard until ready to shoot. He works with the students to ensure that they go away understanding this life lesson. He is also an open, positive role model and mentor to students. Fellow instructor Ray Anderson summarized it, like this: "Howie is always there when they need him." 
Howie's military service from 1955 to 1963 instilled a "lead by example" work ethic. He presents a professional image and comes to class prepared to instruct. He sets an example to the other instructors and students as well. 
Married for 62 years, he and Mary Ellen raised three children and have eight grandchildren. He is a Life Member of the North Bristol Sportsmen's Club, which he joined in the '70's. A member of the American Legion and American Legion honor guard since 1985, Howie has held various leadership posts. He is also a member of the VFW auxiliary since 2000.
With respect and patriotic pride, fellow instructors and others support Ray Anderson's nomination of Howard Christianson as WWF Hunters Safety Instructor of the Year.