Congressman Ron Kind
WWF Conservation Legislator of the Year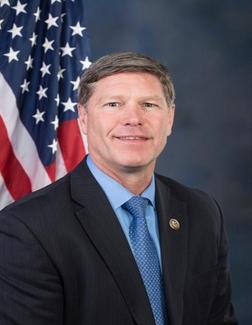 Congressman Ron Kind has represented Wisconsin's 3rd Congressional District for 12 terms and is leaving Congress at the end of this term. He represents the length of Western Wisconsin along the Mississippi River and a significant portion of Central Wisconsin. He has been Wisconsin's strongest conservation Representative throughout his career. 
Congressman Kind is an avid hunter and angler and is a strong supporter of the Second Amendment. He introduced and passed the Chronic Wasting Disease Research and Management Act, bringing together a broad coalition of wildlife and sportsmen groups. Congressman Kind has been a champion for America's National Parks, having founded the National Parks Caucus to protect and advocate the Nation's Parks. This bipartisan caucus focuses on preserving our national parks for future generations. Every year He spearheads an appropriations letter to secure funding for our National Parks. 
Congressman Kind co-chairs the Upper Mississippi River Caucus, a bipartisan caucus that works in both Houses of Congress to protect the interests and sustainability of the Mississippi River. He has been the foremost leader in increasing funding for the Conservation Title of the Farm Bill. He continuously advocated for and introduced amendments to the Conservation Stewardship Program within the farm bill conservation title.
Congressman Kind introduced the expansion of the Federal Duck Stamp Act, which was signed into law. This law increases funding for wetland conservation. He helped introduce and pass legislation to clean up PFAs and ensure Wisconsinites have safe, clean drinking water. Additionally, Congressman Kind signed on to a letter requesting funding to address PFAS in President Biden's budget. He also introduced legislation to provide tax incentives for electric cooperatives that invest in in biogas technology, included in the Build Back Better Act. Congressman Kind advocated for the Upper Mississippi River in the Water Resources Development Act (WRDA). This legislation reauthorizes U.S. Army Corps of Engineers to carry out vital water infrastructure projects to protect the Mississippi Watershed for generations. 
He served as the Co-chair of the Congressional Sportsman Caucus, the largest bipartisan bicameral caucus in Congress dedicated to the management and protection of wildlife species. He was a founder of the Bipartisan National Refuge Caucus to increase resources to the management and protection of our Natural Refuges. Congressman Kind was a strong supporter of the permanent authorization and increased permanent funding for the Federal Land and Water Conservation fund critical for purchase and improvement of local, state and federal public lands. He also is a supporter of Recovering America's Wildlife Act which is critical for protection and restoration of those fish and wildlife species that are in danger of becoming threatened and endangered. Congressman Kind also co-signed a bill to remove the gray wolf from the Federal Endangered Species List in Wisconsin, Minnesota and Michigan. He also has been supportive of federal legislation addressing the threat of Climate Change. 
It's clear why WWF agreed with Honorary Board Member George Meyer–who made the nomination–that Congressman Ron Kind deserves the WWF Conservation Legislator of the Year Award.