Hermitage Conservation Club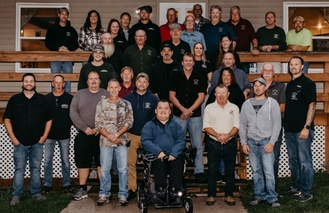 WWF Conservation Organization of the Year 
Josh McDole nominated this WWF affiliate, with these impressive achievements:
Habitat Enhancement, Species Propagation, and Invasive Species Projects
Planted approximately 80 trees.

Hosted workdays removing invasives.

Did controlled burns with local fire departments to re-established prairies.
Hunter & Gun Safety Training Projects
Classes led by 8 members (Certified Instructors) and 1 Jr. Instructor. 

Taught Internet, field day and traditional hunter safety classes.

Graduated 91 students in 2020 despite COVID and 93 for 2021.
Club Projects and Activities
Expanded 3-D archery course open to the public when accompanied by a member.

Ran 3-D league with Kiel Fish & Game and recruited new shooters and members.

Hosted workdays constructing archery stands, planting trees, building wood duck houses.

Involved families on committees like Hermitage/Forest Conservation Clubs Banquet. 
Hermitage Conservation Club Youth Outdoors Activity Program
Created program to recruit area youth into outdoor recreation, starting with shooting sports. 

Launched plan to welcome beginners and offer hands on experience and provide all gear.

Built enthusiasm and began engaging club members who want to be involved in giving to youth, especially those who may not otherwise have the opportunity.

Organized youth committee with youth and adult supervision to begin implementing vision of offering multiple hands-on sessions, partnering with other local youth groups
Conservation Efforts & Projects, and Outdoor Education
Participated and donated to Trees for Tomorrow.

Sponsored Camp Y-Koda mammals presentation for Grant Elementary class.

Donated and participated in Green Wings Day program.

Released 125 pheasants with Sheboygan County Conservation Alliance on multiple sites.

Successfully managed wood duck houses along Sheboygan River.

Maintained public boat landing on club property.

Hosted 4-H Club meetings, Camp Y-Koda events, and ecology classes by Sarah DeZwarte.
Community Service Projects and Community Involvement
Invited guests for firearms sight-in at club range.
Hosted memorial shoots, family events, ice fishing day and community open house.
Helped fund Learn to Hunt events.
WWF Conservation Organization of the Year the Hermitage Conservation Club is an inspiration and a role model to other groups, individuals, and communities.